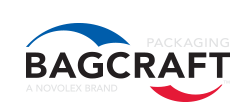 Why Bagcraft?
We make it easy for you to consolidate your flexible foodservice packaging purchases to one source.
• Five strategically located manufacturing plants across the United States
• Broad base of converting capabilities
• Industry leading graphics capabilities
• Innovative specialty packaging solutions
• Wide variety of stock products
Headquartered in Chicago, IL, our national manufacturing and distribution platform includes:
• 5 plants with a total of 867 employees
• 148 production lines
• Unique ability to produce products at multiple locations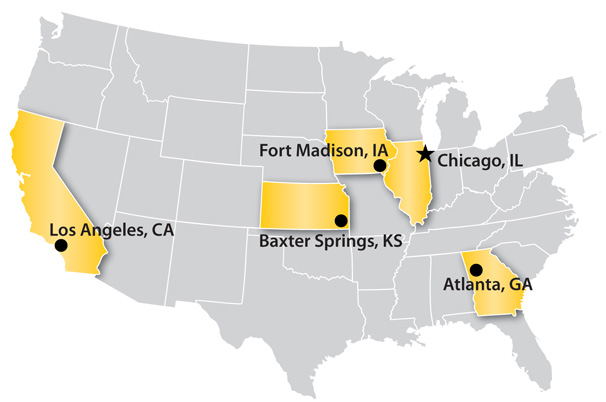 INNOVATIVE
BagcraftPapercon opened its doors in 1948 with 5,000 square feet of space, two machines and a passion for innovation. Sixty years later, we are the largest paper-based, flexible foodservice packaging company in North America with five manufacturing plants spread across the United States. Our commitment to innovation has produced 17 patents and multiple national and international packaging awards.
Innovation is critical in today's market as customers' needs and expectations for foodservice packaging have changed. Our engineering experience, research knowledge, graphics capabilities and passion for innovation make us the best choice to develop flexible packaging solutions that exceed your expectations.
PRACTICAL
Practical packaging means less waste, fewer raw materials and greater savings on manufacturing, transportation and storage. Flexible foodservice packaging is the most practical, cost-effective choice for today's market and the future.
Consumers and operators want practical packaging alternatives to rigid plastic and paperboard. Our process printing capabilities, choices of barrier laminations and window designs provide flexible packaging solutions that are more practical and innovative.
SUSTAINABLE
BagcraftPapercon believes sustainability is a journey of continuous improvement, not a destination. This approach keeps us working hard toward our goals to improve our sustainable practices and products. BagcraftPapercon is a member of the Sustainable Packaging Coalition.
With our EcoCraft® brand, we were the first company to offer a full stock line of unbleached, sustainable foodservice packaging in North America. Sustainable packaging must be affordable to make a significant environmental impact. EcoCraft® maximizes the sustainable benefits while keeping them affordable. Purchasing EcoCraft® is a way to take a simple step on the journey toward a sustainable future.