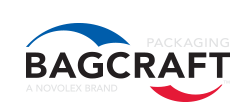 Graphic Guidelines – Flexo Printing
TEMPLATE GUIDELINES
Place artwork and copy inside the "live area" (see illustration on the right). On a bag, 100% ink coverage is acceptable and the template can be filled with color.
Automatic Bags With Window

Stock windows are available and will be provided at no cost. Custom windows will be placed at a distance that is half the gusset plus 1/8" from the bottom of the bag and 1-1/4" away from both sides and will be ordered at cost.
Special Templates
Features include: tin ties, labels, pockets, vent holes/slits, or any special requests. Contact customer service for more information.
Wraps
For spot print, keep all copy 1/4" clear from outer edges. If 100% color is desired on sheets, please contact us before creating your artwork. For random print need request special template.
Graphics covers entire web width.
SOFTWARE
BagcraftPapercon accepts the following software: Include all images (EPS, Tiffs, JPEGs, etc.).
Adobe Illustrator thru v.CS4
PDF (Please outline fonts)
InDesign thru v.CS4
Photoshop thru v.CS4
Quark Xpress thru v.8
RECEIVABLE MEDIA
Send all files via the following formats:
CD or DVD
E-mail (for files up to 4mb)
FTP (File Transfer Protocol) site. Call customer service for more information.
FONTS
Include all fonts with each file. Although True Type fonts are acceptable, Post Script fonts are preferred. Type created into outlines is also acceptable but please be aware that if any changes need to be made to the file, the native fonts need to be sent in. If fonts are not included and not in BagcraftPapercon's database, substitution of fonts will occur with what is available. If substitution is not acceptable, the customer is responsible for all costs associated with purchasing the proper font(s). All type must be at least 6 pt. Reversed out type must be a minimum of 8 pt. and must be bold (or created into outlines and stroked) to allow for press gain.
SCREENS, TINTS & GRADIENTS
Applicable line screen is determined by the graphics and the equipement that it is qouted on. If screens or tints are to be used, please keep this into consideration: Because of variations on the presses, some screens will hold their true value better than others. The higher the percentage used, the more they will fill in at the press. BagcraftPapercon recommends 15% on the low end to 85% on the high end. Please use spot colors only*. If colors need to be acheived by using overlaying colors, then BagcraftPapercon will guide you to which is the best direction to take with all the printing variables taken into consideration. Gradients can also be used, but keep them as large as possible and colors to a minimum.
BLEED, OVERPRINTS & TRAPS
A minimum of 1/8" bleed to the top and 1/4" to the bottom, also bleed into gusset by 1/8".
Overprinting of several colors may cause a "muddied" effect and will have an impact on drying and run times which will ultimately affect costs. Refer to customer service for more information.
Trap lighter colors into darker colors by a minimum of 1/32" for optimum clarity. Be aware when two colors come in contact it will form a third color.
BARCODES (UPCs)
Need to be sent as an FPO (for placement only) as we will order the UPCs with bar reductions.
Minimum UPC size to be 90% and up.